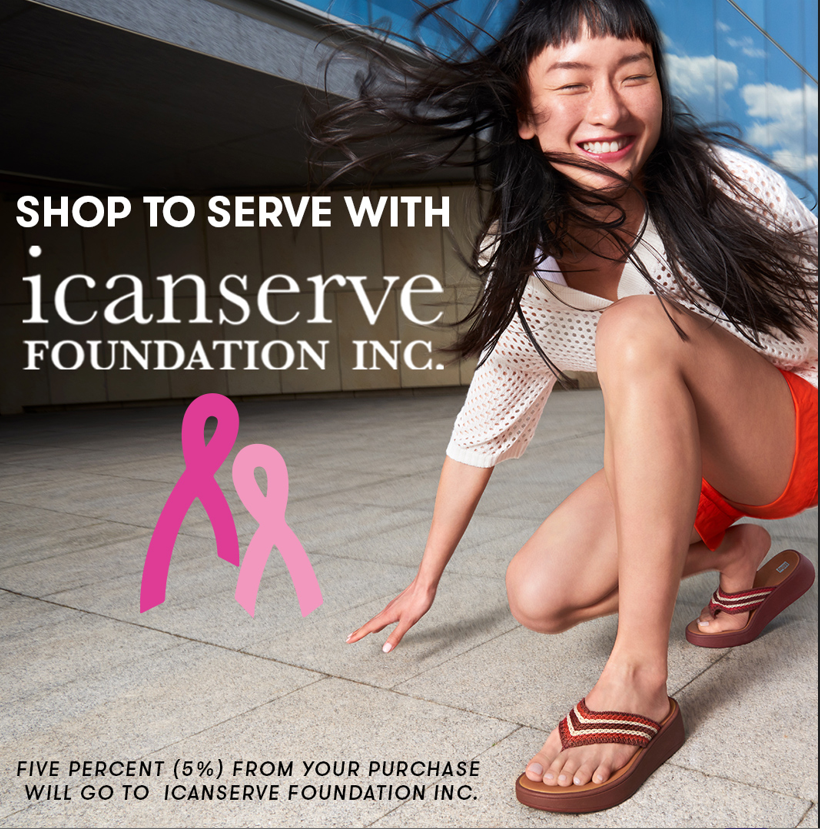 FitFlop, the forward-thinking footwear company, has again partnered with ICanServe Foundation to promote early detection of breast cancer. In their 4th year of partnership, FitFlop not only aims to support the cause, but they are also supporting ICanServe volunteers who make their advocacy even more powerful in the country.
This year, from October 20 until November 15, 2023, the partnership continues to bloom as FitFlop pledges 5% of sales from participating shoe designs to ICanServe. This collaboration is an incredible opportunity for all to make a tangible contribution to the breast cancer awareness cause while upgrading their footwear collection.
The following designs will be part of the promotions during the campaign period: F-Mode Crochet Flatform Toe-Post Sandals; F-Mode Folded Leather Flatform Toe-Post Sandals; Rally Leather / Suede Panel Sneakers. FitFlop aims to support women not only in walking through their daily lives but also in sprinting through their most challenging marathons.
FitFlop has consistently stood by the side of women through its innovative designs that provide comfort and style. Health and comfort have always been central advocacies for FitFlop – their biomechanic design, long-cultivated partnerships, and identity all center around promoting wellness for women and the spaces they occupy.
"ICanServe's commitment to breast cancer awareness and early detection resonates deeply with us. Through our enduring partnership with them, we aim to walk hand in hand with those affected by breast cancer, supporting them not only in their everyday journeys but also in their most challenging battles. Together, we aspire to raise awareness and make a meaningful impact in the fight against breast cancer," said Bel Laureola, Country Marketing Lead of FitFlop/MAP Active Philippines, Inc.
While breast cancer is a harsh reality for many women, it doesn't have to be a fatal diagnosis. Increasing awareness of its symptoms and maintaining regular medical checkups can significantly contribute to saving lives. FitFlop and ICanServe efforts that continue towards this cause make early breast cancer detection accessible through high-impact information campaigns and community-based breast screening programs, particularly "Ating Dibdibin", in various cities, barangays, and private communities nationwide.
To further strengthen these programs, ICanServe provides engaging talks from doctors and breast cancer survivors, support groups, and the educational forums "OKtober" and "Silver Linings."
As a thank you to the organization that has bridged them to their advocacy, FitFlop is offering all ICanServe volunteers a 20% discount on select FitFlop footwear designs. Many ICanServe volunteers are cancer survivors who dedicate their time to sharing their light with other patients and survivors, making their path better lit, and the journey lighter.
Visit any participating FitFlop branches and upgrade your kicks while helping raise awareness for breast cancer and ICanServe.