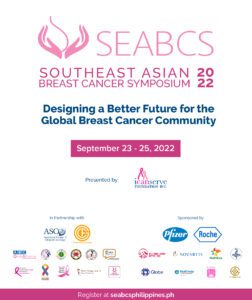 This year, the 6th Southeast Asian Breast Cancer Symposium (SEABCS) 2022 will be a three-day hybrid forum running from September 23 to Sept. 25. Participants from all stakeholder groups—survivors, medical practitioners, experts or anyone interested in understanding breast cancer more—are welcome to participate virtually on Zoom, while some speakers and moderators will be broadcasting from the Seda Hotel in Taguig City.
SEABCS is a gathering of the region's cancer survivors, patient advocates, health professionals, researchers and policy makers to exchange ideas, and to share successful strategies and the latest in breast cancer, as well as the many challenges that face the breast cancer community on every level.
Hosting SEABCS this year are ICanServe Foundation based in the Philippines and Global Focus on Cancer based in the United States, with the support of the American Society of Clinical Oncology (ASCO) and the Union for International Cancer Control (UICC).
"It's the only forum that brings together such people with a focus on breast cancer and the Southeast Asian region," says ICanServe founding president Kara Magsanoc-Alikpala. "It's an opportunity to figure out as a region how best to create and sustain a robust, responsive health system, to project what makes cancer in our region unique, so we are well represented in the global cancer space whether in the creation of global health initiatives, research, clinical trials, advocacy or access to grants. Ultimately, we want all breast cancer patients to have equal access to affordable, quality, timely care."
It's the first time a cancer patient group in the Philippines is hosting such a conference, says Magsanoc Alikpala, and ICanServe is proud to have been invited to host by Global Focus on Cancer.
This year's conference theme is "Designing a Better Future for the Global Breast Cancer Community." The goal is to improve quality of life for breast cancer survivors by enhancing the continuum of care, from prevention, early diagnosis and treatment, to palliative care, survivorship and hospice. Data and best practices will be shared to push for positive change in the health systems of different countries. It is also an opportunity for the region to continually find common ground for collaboration.
"We have over 50 speakers from 15 countries, including speakers from outside the region—USA, Europe and India—plus more than 30 moderators and panels of reactors," says Magsanoc-Alikpala.
Delivering the opening address is Princess Dina Mired of Jordan, former president of the UICC, mother to a cancer survivor and a global anti-cancer advocate.
Among the topics to be discussed during the conference are using positive peer pressure in Vietnam; measuring and improving happiness among patients in Malaysia; a breast cancer control program under local governments in the Philippines; managing unwelcome effects of breast cancer treatment; courage in facing advanced breast cancer; how the food you eat can influence cancer; using social media for advocacy; advanced technologies and artificial intelligence in healthcare; stories of hope, and many others. ASCO is also presenting the latest findings from its annual meeting that are relevant for lower and middle-income countries.
"As host, ICanServe designed the event and the program with the help of partners," Magsanoc-Alikpala says. "We struck a balance so we would appeal to different stakeholders, including those in the NGO (non-government organizations) space, not necessarily cancer focused. We have design thinking, social media, organizational management, even artificial intelligence-related topics. For the health professionals, we will introduce mostly new studies and breakthroughs, thanks to our partner, the doctors of ASCO. There are topics for cancer survivors at any point in their journey."
All virtual learning sessions at this year's SEABCS will be open to all, and registration is free of charge at https://seabcsphilippines.ph.