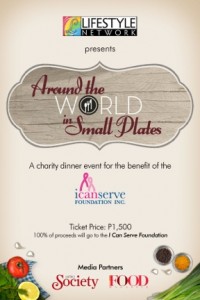 SAVE the date (November 9, 6 p.m. to 10 p.m.) for Lifestyle Network's AROUND THE WORLD IN SMALL PLATES, a unique charity tasting event for the benefit of the ICanServe Foundation.
"Around the World in Small Plates" takes guests on a tour around the world through off-the-menu specials served in small plates. With the collaboration of the country's top chefs and Lifestyle Network's very own, the channel intends to create a mouthwatering menu showcasing the different cuisines of the world while highlighting of course our very own. During the event, a mini-fair showcasing international and local products will be available for guests to take home.
The dinner event will be held at the Rockwell Tent on November 9, 2012 at 6:00 pm to 10:00 pm. Different restaurants and hotels as well as international and homegrown chefs will join this unique event.
As the food authority on Cable TV, Lifestyle Network is giving its viewers a taste of what they see on-air through a unique dining experience.  Food on Lifestyle Network is the strongest and highest rating block of the channel. It carries the best of foreign food programs and the most respected food and culinary icons across the globe.  It has also successfully produced its first local food program, "Curiosity Got the Chef with Chef Sharwin Tee" (now on its second season), with more unique culinary programs lined-up in the coming months.
"Around the World in Small Plates" ensures an explosion of culinary delight that not only excites the tastebuds but also invigorates the soul, all for a good cause. For more information, visit the channel's Facebook page.
Mechanics:
•Each chef/hotel or restaurant participant will prepare 1 off-the-menu dish in tasting portions, representing a cuisine
•A ticket to the charity dinner entitles the holder to have a small tasting plate of each dish served
•A dinner ticket is worth P1,500.00 inclusive of  15 tasting portions
•100% of tickets sales goes to charity (I Can Serve Foundation)
Partial list of Participating Chefs:
Chef Romy Dorotan and Amy Besa of Purple Yam, NYC
Chef Claude Tayag of Bale Dutung
Chef Him Uy de Baron of Nomama
Chefs Walter Manske & Chef Allen Buhay of Wildflour
Chef J Gamboa & Chef Watee of Azuthai
Chef Gene and Gino Gonzalez of LN's Chefscapades
Chef Cyrille Soenen of Impressions
Chef Ed Quimson Chef Summer of Brasserie Cicou
Chef Sharwin Tee of Curiosity Got the Chef
More chefs to come…
ICanServe Foundation thanks Lifestyle Network and its media partners, Metro Society and Food Magazine, for joining the cause of early detection to save lives.