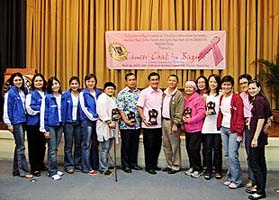 The first cancer forum in Baguio City held on March 24, in celebration of Women's Month, was a huge success. At least 140 registered participants from Mountain Province and the Cordillera trooped to the Baguio City Multipurpose Hall for an afternoon chat with speakers led by medical oncologist and bone marrow transplant specialist, Dr. Francis Lopez.
Sponsored by Venture Club Baguio and the Baguio City government, Cancer Chat in Baguio was organized by local support group Minda's Buddies and I Can Serve Foundation. Minda's Buddies president Marivic Bugasto is also an I Can Serve volunteer.
Other speakers were I Can Serve president Kara Alikpala, Col. Romeo Licyayo and I Can Serve volunteer Carla Sison who are both breast cancer survivors, and journalist Norman Sison who spoke from the viewpoint of a survivor's spouse.
The event also received support from Sorpotimist-Baguio City Chanpter, Sanofi Aventis, Biomedis Oncology, and Roche.