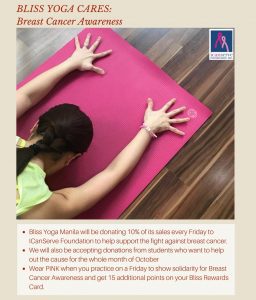 Bliss Yoga Manila joins the international observation of breast cancer awareness month by donating 10% of its sales on all Fridays of October to ICanServe Foundation.
It will also accept donations from students who want to help raise awareness about the early detection of breast cancer. Students who wear pink when they practice on Fridays get 15 additional points on their Bliss Rewards Card, for showing their solidarity for the cause.
ICanServe is a member of Cancer Coalition Philippines, which is working with Congress to pass the National Integrated Cancer Control Act. The law is envisioned to address the various gaps in the cancer care continuum and provide integrated solutions for every single step: from prevention, detection, correct diagnosis, treatment and palliative care, pain management and survivorship or end of life.