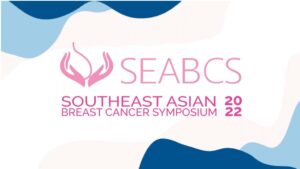 All 26 sessions of the 6th Southeast Asia Breast Cancer Symposium (SEABCS) are now available on the ICANSERVE YouTube Channel. Topics include advancements in cancer treatment, supportive care (such as mental health, nutrition, and the management of side effects), and advocacy strategies.
The 2022 SEABCS was hosted by Philippines-based nonprofit ICANSERVE Foundation and U.S.-based nonprofit Global Focus on Cancer, with the support of the American Society of Clinical Oncology (ASCO) and the Union for International Cancer Control (UICC).
The three-day hybrid forum held in Taguig City from September 23 to 25, 2022, drew over 2,200 participants in person and online. It was the first hybrid SEABCS, the first time a cancer patient group in the Philippines hosted the event, and the first time participation was free for all attendees. Sessions were universal and accessible to all, calling attention to issues often overlooked.
The lack of clear track distinctions gave health professionals, patients, and advocates the freedom to attend any session based on their interest, allowing groups to learn from and better understand each other.