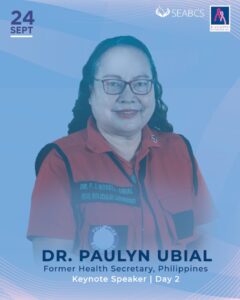 Dr. Paulyn Ubial, former Health Secretary of the Philippines, will deliver the keynote address on the 2nd day of the Southeast Asia Breast Cancer Symposium (SEABCS) to be held online from September 23-25, 2022.
Ubial has spent her entire career in public health, starting as a volunteer rural physician in Kidapawan, Cotabato. She was later assigned to the Department of Health headquarters in Manila, where she headed the Polio Eradication Unit under the late Health Secretary Juan Flavier. From 2008 to June 2016, she was an Assistant Health Secretary until her appointment as Secretary of Health under then President Rodrigo Duterte.
"ALL for Health toward Health for ALL" was my advocacy tagline when I was Secretary of Health here in the Philippines because I believed then…and it is still relevant today that everyone should be concerned about health, not just their own but of their relatives and neighbors as well. This advocacy I would like to bring to this 6th Southeast Asia Breast Cancer Symposium on September 23-25, 2022. All our efforts, new treatments as well as support services to help breast cancer survivors and for the general public, on how to prevent getting breast cancer, be involved in early detection and as support mechanism to patients and their families must be shared, so we do not repeat mistakes and learn from already known and established strategies and not waste time starting from step one… This is the relevance of this yearly forum, so all countries in Southeast Asia can move forward together in the fight against a silent pandemic of breast cancer and cancers in general," says Ubial. She is currently consultant/head of Molecular Laboratories of Philippine Red Cross, while also teaching as adjunct professor at the University of the Philippines College of Public Health.
Philippines-based ICANSERVE Foundation, Inc. and U.S.-based Global Focus on Cancer host this year's SEABCS previously held in Vietnam (2016), Myanmar (2017), Malaysia (2018), Thailand (2019), and Indonesia (2021- virtual conference). With the support of the American Society of Clinical Oncology or ASCO and the Union for International Cancer Control, the SEABCS is open to all with topics that appeal to various stakeholders—doctors, caregivers, patient advocates, and cancer survivors at any point in their journey.
Among the topics to be discussed during the conference are using positive peer pressure in Vietnam; measuring and improving happiness among patients in Malaysia; a breast cancer control program under local governments in the Philippines; managing unwelcome effects of breast cancer treatment; courage in facing advanced breast cancer; how the food you eat can influence cancer; using social media for advocacy; advanced technologies and artificial intelligence in healthcare; stories of hope, and many others. ASCO is also presenting the latest findings from its annual meeting that are relevant for lower and middle-income countries.
Join the conversation. Registration is free. Register for the virtual conference at https://seabcsphilippines.ph/
(Photo courtesy of Philippine Red Cross)