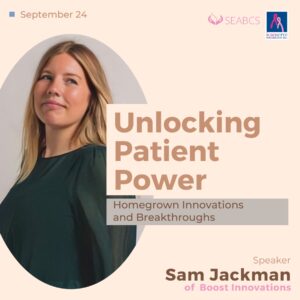 When Sam Jackman's mother had a mastectomy as part of breast cancer treatment, she found that the traditional silicone gel prosthesis was hot, sweaty, uncomfortable, and unsuitable for an active lifestyle. After many years of searching online for an alternative, Sam mentioned her frustration to her colleague Rosie Brave. They soon realized that many other women felt the same way and the idea for Boost was formed.
Jackman, the co-founder and director of Boost Innovations Ltd., will talk about her invention in a session entitled "Unlocking Patient Power: Homegrown Innovations and Breakthroughs" at the 6th Southeast Asia Breast Cancer Symposium (SEABCS) to be held online from September 23-25, 2022.
Boost is a Cornwall, UK-based start-up company which aims to create products with women, for women after breast cancer treatment. Inspired by Sam's mother, Boost developed a revolutionary approach to breast form design that seeks to solve issues women have with current market breast prostheses. Sam's background in education, cultural heritage, and project management has enabled her to bring a creative perspective for the business.
Jackman says, "I am not trained as a product designer, and I had no ambition to be an entrepreneur, but my Mum's experiences as a breast prosthesis wearer following her mastectomy inspired me to reflect on the way that the products were designed. I could see they could be improved. Other women began telling us that they had similar issues; the prosthesis was hot, heavy, sweaty and was uncomfortable to wear particularly during exercise. It reminded them of the medical interventions they'd had, and poorly imitated the breast they'd lost. For many women, the point was not to find a 'replacement' breast, but to find a solution to help regain their shape, so clothing could sit more comfortably and they felt confident. Boost was created to listen to women and to design a new type of product that could meet their needs. I am really proud of how our design functions and looks, and the positive feedback we have achieved since our launch has been amazing. Best of all, my mum loves her Boost!"
"We founded Boost because we believe that breast forms don't have to be beige, boring or heavy. We involve people who wear our products in our design process, and welcome feedback and product design suggestions. We think that a breast shaper product should bring positivity and should help you to feel good," adds Jackman and her co-founder in a statement on their website, https://wewearboost.com.
Be inspired by Sam and other breast cancer patient advocates at the 6th SEABCS, hosted by Philippines-based ICANSERVE Foundation, Inc. and U.S.-based Global Focus on Cancer. A gathering of the region's cancer survivors, patient advocates, health professionals, researchers, and policy makers, SEABCS was previously held in Vietnam (2016), Myanmar (2017), Malaysia (2018), Thailand (2019), and Indonesia (2021- virtual conference).
Join the conversation. Registration is free. Register for the virtual conference at https://seabcsphilippines.ph/