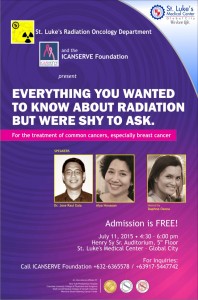 ICANSERVE Foundation hosts a forum on radiation this Saturday, July 11 at 4:30 p.m. to 6 p.m. at St. Luke's Medical Center, Global City. Admission is free.
ICANSERVE member Alya Honasan and Dr. Joel Resubal of St. Luke's will make the topic come to life. ICANSERVE volunteer Daphne Osena Paez will host "Everything You Wanted to Know About Radiation but Were Shy to Ask."
Newly diagnosed cancer patients, their family and friends, ICANSERVE volunteer doctors, health workers, and nurses from its Ating Dibdibin communities are expected to attend.
For inquiries, call the ICANSERVE hotline at 636 5578.