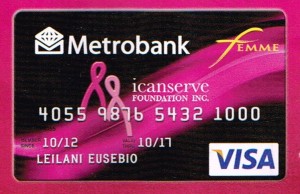 Metrobank Femme Visa and ICanServe Foundation present the first co-branding credit card agreement for a breast cancer awareness advocacy: the Femme-ICANSERVE Visa.
Through a three-year partnership, users of the Metrobank Femme Visa and Femme-ICANSERVE Visa can accumulate and donate points earned from spending to ICanServe Foundation. Every P20-spend on groceries, gas, shopping, dining and travelling earns one point.
Apply for by the Femme-ICANSERVE Visa by downloading the application form. Fill out the form, choose "Femme-ICANSERVE Visa" by ticking the box, and fax to 858-8890 or 858-8891. To qualify, applicant must have a minimum gross annual income of P180,000. Annual fee of P1,500 is waived for the first year of membership. Learn more about the special features of the Femme-ICANSERVE Visa here.
Current Metrobank Femme Visa cardholders may convert to the Femme-ICANSERVE Visa by visiting www.designmycard.com.ph and choosing the image of the Femme-ICANSERVE Visa card from the image library of Femme Visa. Compare your current Metrobank credit card with the Femme-ICANSERVE Visa here.
Existing Metrobank Femme Visa cardholders who convert to the Femme-ICANSERVE Visa from October 1 to 31, 2012, may qualify for a Rags2Riches (R2R) clutch bag exclusively designed by Rajo Laurel for Metrobank Femme Visa. A minimum accumulated spend of P5,000 from the time of card delivery until December 31, 2012 is required to qualify for the R2R bag.
Get the new Femme-ICANSERVE Visa and make a difference in the lives of women at risk for or living with breast cancer.
For details, visit the Metrobank Card Corporation website or call 8-700-700 in Metro Manila or 1-800-1888-5775 (Domestic Toll Free).