ICanServe Foundation raises the bar, collaborating with respected enterprises to raise awareness about early breast cancer detection among Filipino women.
For October 2021, Krispy Kreme Philippines chose ICanServe as beneficiary for a portion of sales proceeds for its strawberry ring-filled Pink Ribbon doughnut and Pink Strawberry Float, made with Milkis Strawberry, as they join the advocacy with their #ThinkPink campaign.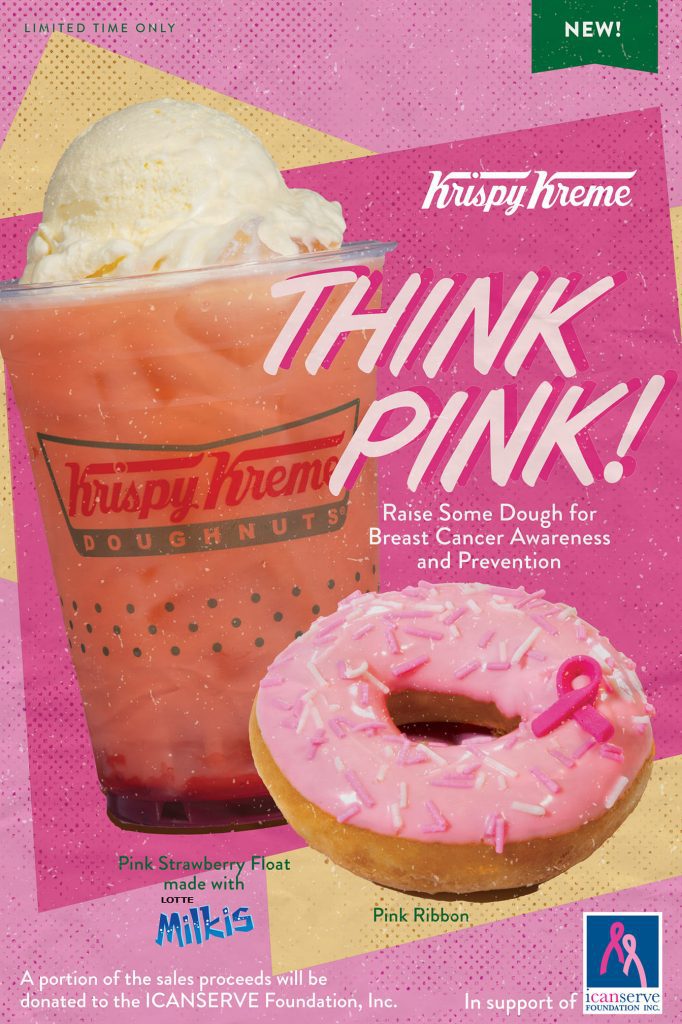 In addition, Krispy Kreme Philippines is encouraging women to get a mammogram this October by treating them to one (1) Free Pink Ribbon Doughnut until October 22, 2021. Limited to one redemption per day, ladies just need to present proof of the mammogram in the form of a receipt for validation to claim their treat, subject to availability in select Krispy Kreme stores. Early breast cancer detection guidelines recommend that women aged 40 years and above submit to an annual mammogram.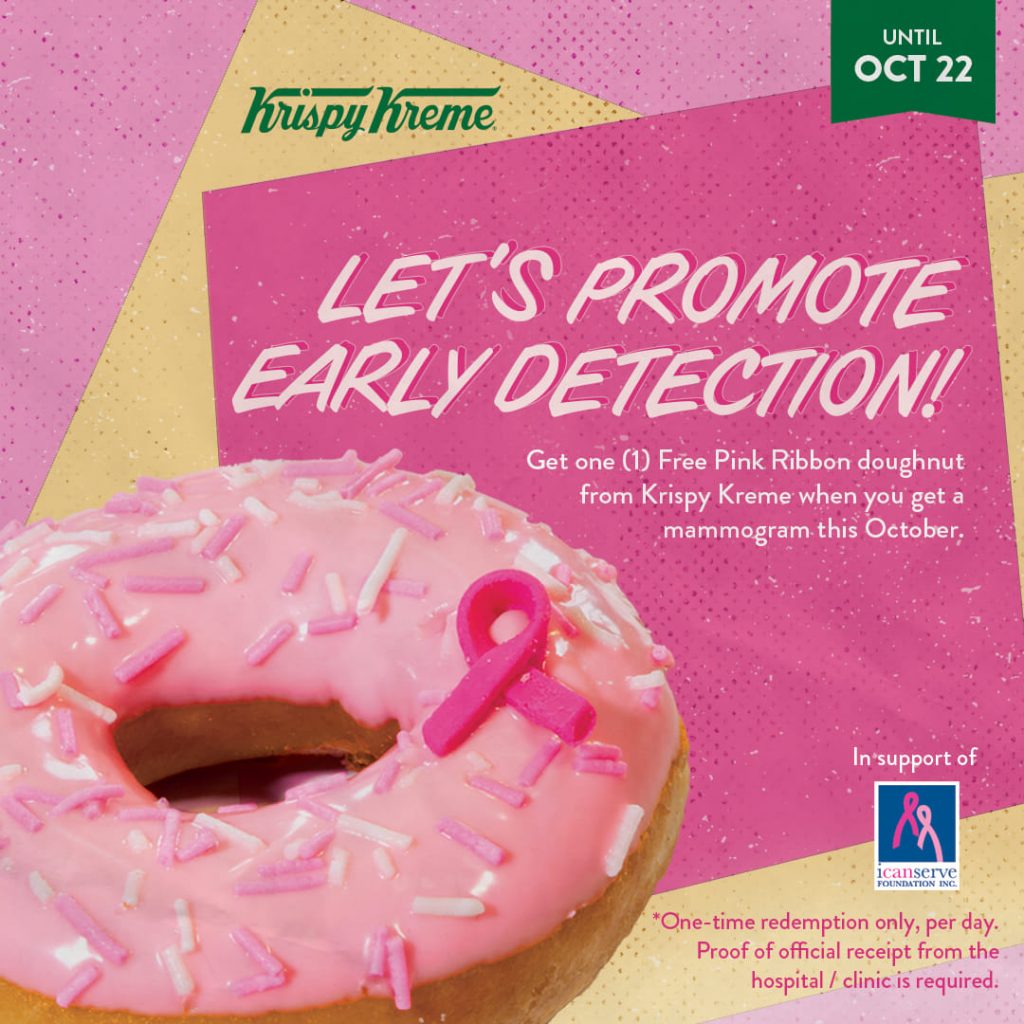 Another collaboration that ICanServe is proud of is one with Cada Filipina, a Manila-based online brand carrying locally handmade jewelry and other accessories. Cada Filipina has pledged to donate to ICanServe 10% of all sales proceeds of its made-to-order, limited edition Boob Necklace until December 31, 2021.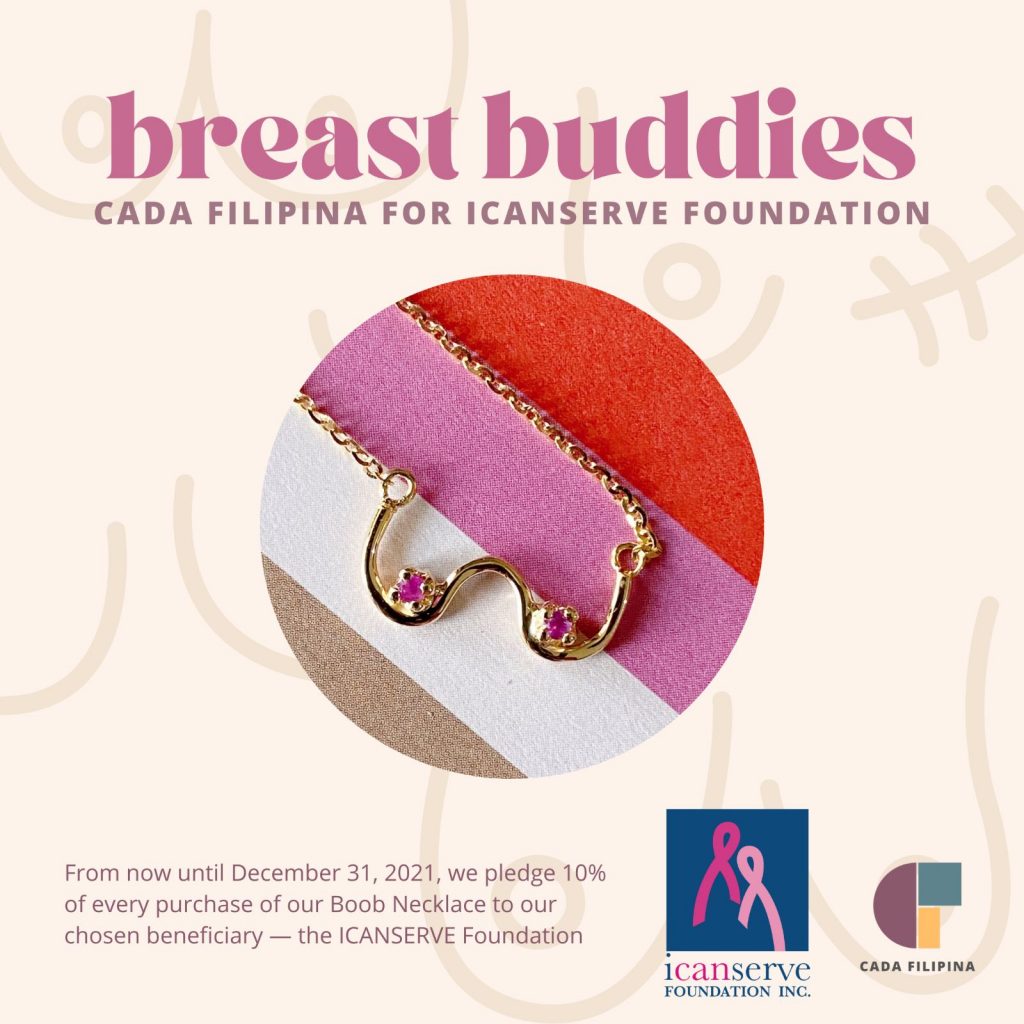 The Boob Necklace is available for ordering through cadafilipina.ph and /or via @cadafilipina on Instagram.
Those interested to own one of these limited edition jewelry will have a choice of 14- or 18-karat solid gold in either yellow, white, or rose tone.
The Cada Filipina Boob Necklace with pink stone accents is available in the following options:
14k solid gold with 16″ chain – Php 9,500
14k solid gold with 18″ chain – Php 10,000
18k solid gold with 16″ chain – Php 12,000
18k solid gold with 18″ chain – Php 12,500
Everything is MADE TO ORDER, with a lead time of 3-4 weeks. It is important to note that the pink stones may be replaced with similarly hued gemstones depending on availability.
ICanServe thanks all its partners, donors and advocates for supporting its mission to provide hope and help to women living with breast cancer and those at risk.