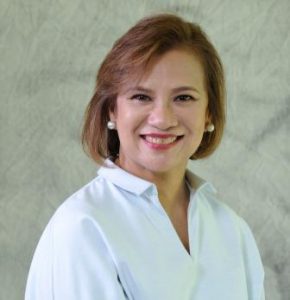 ICANSERVE managing director Lanie Eusebio lived with fearlessness and selflessness, friends and colleagues agreed at a tribute given in her honor following her demise.
Eusebio, 53, succumbed to metastatic breast cancer on December 12, 2017. She was diagnosed in May 2004 with Stage 2A breast cancer, at the age of 39. After a lumpectomy, six cycles of chemotherapy and 33 days of radiotherapy, she lived cancer-free and was elected as ICANSERVE managing director in 2010.
Later in 2010, she was again diagnosed with breast cancer. After another round of treatment, she was again well until the cancer was found to have spread to her bone in 2014, manifesting as pain in the lower back. Then began continuous treatments to stabilize the lesions and to strengthen her bone against the tumor. In 2016, the cancer spread to her liver and in 2017, to her lungs.
Throughout these challenges, including the side effects of treatment, Eusebio faithfully discharged her duties as ICANSERVE managing director, ensuring all working committees and volunteers received guidance and when needed, resources for the projects they were undertaking. She was especially active in the Advocacy committee, championing Ating Dibdibin, the foundation's community based screening program that partners with local governments, and OKtober, the foundation's multi-venue early breast cancer detection forums held every October since 2015. At the press launch of Cancer Coalition Philippines (CC PH), which ICANSERVE co-chairs, she said, "I am happiest when I am in the barangays," referring to the small advocacy forums held among women in barangays where Ating Dibdibin is being introduced.
She even lent her modeling skills to the foundation at the last Fashion Can Serve, held October 8, 2017. She walked the runway in a Mia Arcenas and wowed the crowd with her bravery and devotion to the cause of early breast cancer detection.
Childhood friend Marie Gardner, described her, thus: "Her integrity was without question. She's one person whose sense of right and wrong is crystal clear. No compromising that one. That's one of the reasons why I liked being around her. Her moral compass was strong, it has guided me in many ways. She never hesitated to scold me if I was off track. She was a level headed, fair and compassionate HR Manager. Under her watch, there were no strikes or major upheavals because she always knew how to create win-win situations…
She's instinctively a good reader of people plus all those years of experience looking after the well being of top executives and workers, and their families, she has seen different problems, created and implemented different solutions. You can't fool her either, she knows all the tricks in the book. She can smell a fake, a scammer a mile away. She hates fair weather friends, people who are there only in good times. Or people with agendas."
Addressing Eusebio at a memorial on December 13, 2017, ICANSERVE chairman Libet Virata said: "Lanie, I will always remember you as our  victor who did not let cancer defeat your amazing spirit. When you and Teresa walked in FashionCanServe, displaying your badge of courage, people in the room knew they were witnessing real-life heroes walking down the runway.
I don't know how Lanie did all that she did. She would go from a chemo session on Tuesday to an OKtober meeting in Malabon on Wednesday, then she'd fly to Davao on Thursday for her own private work. And if you told her to rest and take it easy, naku lagot ka!
Her dedication and commitment were beyond compare. When things needed to be done and were not getting done, Lani would just quietly step in and do it – even if she was not the one assigned to do it – and without one word of complaint! When she'd make me kuwento about it, there was no 'martir' in her tone. It was just a matter of fact, 'heto na, wala pang ganito pala…" and she'd say how she fixed the situation from behind the scenes and she'd be smiling lang. Superwoman talaga."
Others who paid tribute to Eusebio at her memorial were Noel Borlongan, a former colleague who remembers her closing a manufacturing plant without issue from 1,500 workers, and learning later on that the workers felt they were accorded respect by Eusebio and were grateful for the terms with which their services were terminated; Dr. Ramon Severino, co-chair of CC PH, who fell in love with Lanie's persistence ('you can't say no to them') and determination to help others; and ICANSERVE spokesperson Bibeth Orteza, who imagined the conversation that went between God and Eusebio in setting the date when she would depart for heaven.
A devout Catholic, Eusebio, passed away on the Feast of Our Lady of Guadalupe, Patroness of the Philippines. Fellow Catholics believe she was welcomed by the Mother of God to heaven the moment she breathed her last. She is survived by her husband Zenon and only son James Zenon.