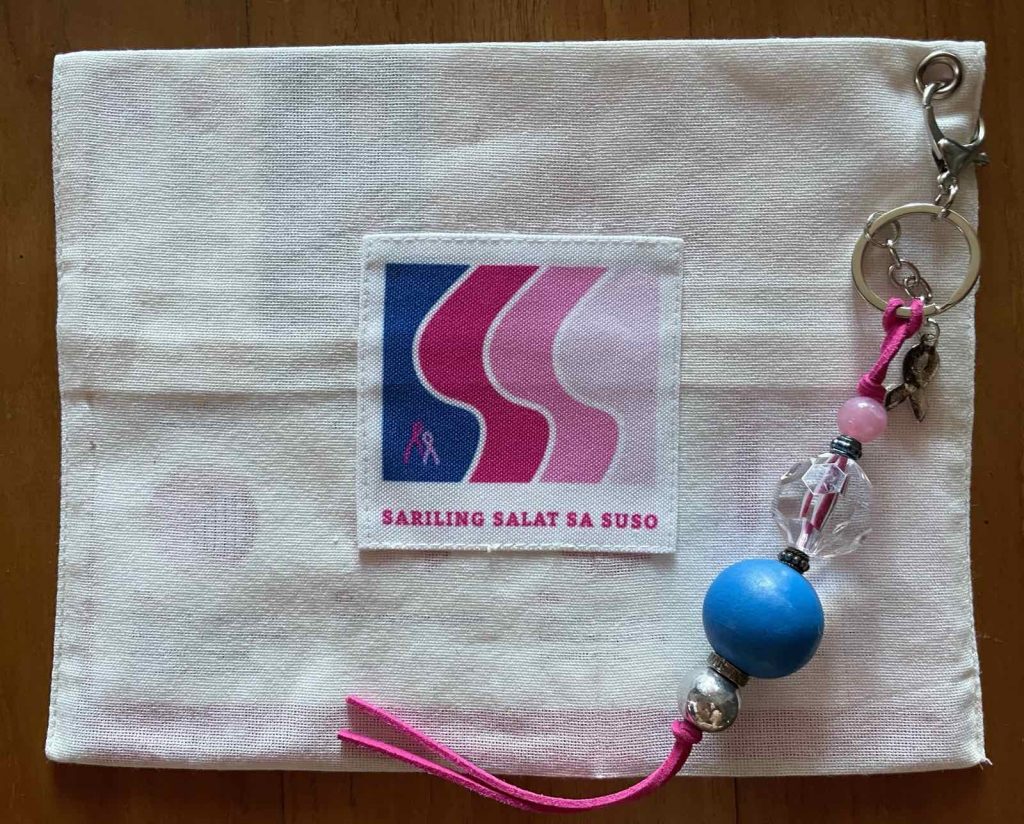 ICANSERVE Foundation continues to looks for sponsors and partners to distribute Kamay Gabay breast self-examination (BSE) kits to women all over the country.
Breast cancer became the number one cancer in the world in 2020, overtaking lung cancer (World Health Organization, International Agency for Research on Cancer).
Launched in October 2020, Kamay Gabay kits contain information on breast care, breast cancer, and a bag charm bracelet that serves as a visual reminder to do regular BSE and clinical check-up. The beads of the charm demonstrate the average sizes of lumps found through check-ups, and sizes of lumps that go unchecked.
ICANSERVE thanks its first Kamay Gabay partners as follows: Metro Manila Mayors Spouses Foundation led by its president Janet Olivares, vice president Melissa Oreta, and executive director Eva Nono; Muntinlupa Representative Ruffy Biazon and wife Trina; Taguig City Mayor Lino Cayetano and health cluster head Dr. Cecille Montales; Pasig Mayor Vico Sotto; San Juan City Mayor Francis Zamora and wife Keri; Marikina City Health Office led by Dr. Albert Herrera; ICANSERVE Cebu led by Mary Anne Alcordo Solomon; Tagum City led by Mayor Allan Rellon, Vice Mayor Eva Lorraine Estabillo, Rotary Club of Tagum North, Living Hope led by Melina Avila; Baguio-based Minda's Buddies led by Marivic Bugasto; Isabela-based Buhay Ka! led by Dr. Melchor Capella De La Cruz; Cagayan de Oro-based Thrive led by Karen Jose Maria; and Max Ventura of Philam Foundation; and individual sponsors Isabela Lovina and Luis Virata.
Together with cancer patient groups and city partners, ICANSERVE seeks to provide hope and life-saving information despite the pandemic via online breast cancer forums and the Kamay Gabay kits.
"Saving lives of mothers and daughters begins at home. Early detection is your best protection. Now, more than ever, we need to provide women with correct and vital information. BSE can save your life. To this day, it remains the most non-complicated, non-invasive, most cost effective way to detect breast cancer," says ICANSERVE chairman Crisann Celdran.
"Before the pandemic, during our free breast clinics and forums in tandem with the local government unit's City Health team, a lot of hugging and hand holding goes on. The women in the communities are very touchy feely. They are afraid of the topic and need a lot of reassurance. Virtual forums alone don't cut it for them. So we distribute these Kamay Gabay kits. The kit is something tangible. Something that can keep the women company with a friendly reminder to check themselves and to go to the nearest community health center if there's a suspicious breast lump that needs to be seen by a professional," adds ICANSERVE founding president Kara Magsanoc-Alikpala.
ICANSERVE encourages breast cancer patients on treatment to keep to their scheduled hospital visits. It also encourages breast cancer survivors to observe their regular check-ups with their health care provider.
To donate or purchase Kamay Gabay kits for your chosen barangay, please contact Myrna at +63919 006 9445.