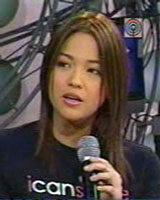 Breast cancer patient advocacy group ICanServe recently gathered volunteers and beneficiaries to host a thank you luncheon for multi-awarded car racer Gaby de la Merced, who chose ICanServe as her beneficiary for winning the recent Pinoy Big Brother Celebrity Edition 2 (PBBCE2).
De La Merced was proclaimed third big placer of PBBCE2 and pledged P300,000 of her winnings toICanServe, a foundation that empowers women with information on breast and other women cancers.
The extreme sports enthusiast learned about ICanServe when it held a fund-raiser called Pink Kitchen in August 2007. The event enlisted the help of the country's top private and gourmet chefs who whipped up their signature dishes to raise funds for breast cancer awareness and subsidize medical treatment for breast cancer patients.
"It was our family's love for eating led us to the Pink Kitchen in Rockwell Tent, Makati last year," recalled Gaby. Ironically, Gaby herself was tied up at work and couldn't go.
"But my mom was able to go and it was the first time I learned about ICanServe and what it does for the breast cancer community. I found out about their advocacy and projects. I was always wearing the ICanServe band that my mother bought at Pink Kitchen. That is why when I was asked what charity I wanted to help for PBBCE2, I thought of ICanServe," Gaby said.
ICanServe founder and president Kara Alikpala who marveled that it was a fund raising activity thatintroduced Gaby to ICanServe. "How wonderful that one blessed thing led to another," Alikpala said.
In response, Gaby said she was touched by the warm reception and the outpouring of inspiring stories from the breast cancer survivors.
"You are the real winners for surviving cancer," she said.
To her delight, a repeat of the gourmet heaven Pink Kitchen, is already scheduled on October 18 and 19 in Rockwell Tent, Makati. "I'll make sure I can go this time."
Joining the get-together were members of the PGH (Philippine General Hospital) Breast Cancer Support Group led by volunteer Olen Jalandoni. ICanServe networks with support groups from all over the Philippines to promote patient power, as well as to link service providers with those who do need their services. In honor of Gaby, ICanServe volunteer Bangge Mabanta sang two songs with friend Emeline Guinid, while Lydia Bo of the PGH group recited a poem. ICanServe spokesperson Bibeth Orteza emceed the program, introducing Gaby to breast cancer lingo like "wansu" (a woman with only one breast remaining, after the other had been surgically removed) and "Fleeting Boobs" (fully-washable prostheses made of cotton by breast cancer survivor Fleta Errasquin).