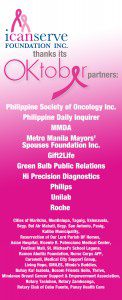 ICanServe Foundation, its network of volunteers, survivors and advocates, thanks its partners and host communities for helping it stage #OKtoberPH, a multi-venue breast cancer forum, with breast cancer screening to be conducted in select sites, on October 8, 2015.
The event gives local communities a taste of its flagship program, Ating Dibdibin. The program, which is done in cooperation with local governments, teaches barangay health workers how to conduct clinical breast examinations, encourages women to go for screening, and helps those diagnosed to navigate the journey toward healing and recovery. Ating Dibdibin provides hope to women at risk, especially in underserved communities where there are few doctors and modern health care facilities.
Through the active engagement of local government units, Ating Dibdibin has been serving women at risk in Marikina City (since 2008), Panabo City in Davao del Norte (since 2010), Taguig City (since 2012) and Muntinlupa City (since 2014).
For #OKtoberPH, ICanServe partnered with the Philippine Society of Oncology, Inc., Philippine Daily Inquirer, the Metro Manila Development Authority, Metro Manila Mayors' Spouses Foundation, Inc., Gift2Life, Green Bulb Public Relations, HI Precision Diagnostics, Philips, Unilab, Roche, the cities of Marikina, Muntinlupa, Taguig, Panabo, Valenzuela, Brgy. Bel Air Makati, Brgy. San Antonio Pasig, Kalibo Municipality, Resurrection of Our Lord Parish BF Homes, Asian Hospital, Victor R. Potenciano Memorial Medical Center, Festival Mall, St. Michael's College of Laguna, Ramon Aboitiz Foundation, Nurse Corps AFP, Carewell, Medical City Support Group, Living Hope, Smiles, Minda's Buddies, Buhay Ka! Isabela, Bosom Friends Iloilo, Thrive, Mindanao Breast Cancer Support & Empowerment Association, Rotary Club of Kandaya (Tacloban), Rotary Club Zamboanga, Rotary Club of Cebu Fuente, Panay Health Care.

Actors Enrique Gil and Liza Soberano, known for their ABS-CBN hit TV-series Forevermore that aired early this year, volunteered to advocate #OKtoberPH and its message, "Early Breast Cancer Detection is your Best Protection." They would like to encourage women of all ages to follow the early breast cancer detection guidelines: At age 20, conduct a monthly breast self-examination (BSE): At age 30, conduct a monthly BSE and submit yourself to a clinical breast examination (CBE) by a trained health worker or medical professional; At age 40, conduct a monthly BSE, go for a CBE, and get a baseline mammogram.
| | | |
| --- | --- | --- |
| Partnering Host | Venue | Time |
| METRO MANILA/LUZON | | |
| The Carewell Community Foundation, Inc. | Carewell Office, Makati, Legaspi Village | 8am to 12:30pm |
| Marikina City | Marikina City Health Office | 9am |
| Taguig City LGU / Spouses of Mayors Foundation Inc | SM Aura Towers 10th floor | 1pm |
| Resurrection of Our Lord Parish, BF Homes Parish | Resurrection of Our Lord Parish, BF Homes Paranaque City | 8am to 12nn |
| Muntinlupa City LGU, Asian Hospital, Festival  Mall | Festival Mall, Filinvest, Muntinlupa City | 1pm |
| Victor R. Potenciano Memorial Medical Center (VRPMMC) | 5th Floor, Physicians Center, VRPMMC Mandaluyong | 8am |
| Brgy. San Antonio Pasig and the Medical City Cancer Support Group | Health Center, General Malvar Street, San Antonio Village, Pasig City | 8am to 12nn |
| Brgy. Bel Air, Makati | Gemini Room, Brgy Bel Air 3, Makati City | 8am |
| Bangko Sentral ng Pilipinas | BSP Office, Manila | To be held after October 8 |
| Valenzuela City | Valenzuela  Convention Center, Old Valenzuela City Hall, Maysan Road, Valenzuela City | 8am to 12nn |
| OUTSIDE METRO MANILA | | |
| St. Michael's  College of Laguna | St. Theodore Hall, St. Michael's College of Laguna | 7am |
| Minda's Buddies, Baguio City | University of the Cordilleras Auditorium; Gov Pack Road | 1:30 to 5pm |
| Buhay Ka! Isabela (St. Michael's Birthing Center) | Santiago City Health Office, Santiago City, Isabela | 1pm to 5pm |
| | | |
| VISAYAS | Venue | Time |
| ICANSERVE Cebu Chapter with Ramon Aboitiz Foundation Inc and Eduardo J. Aboitiz Cancer Center, Rotary Club of Cebu Fuente District 3860, Rotarcy Club of Cebu Fuente Community Based District 3860, PSMO/PCS/PSGS-CEV | Ramon Aboitiz Foundation Inc. building | 8am to 11am |
| Rotary Club of Kandaya | State University, Tacloban | 9am |
| Aklan | Hernani's Restaurant, Louis Barrios Street, Kalibo | 8am to 12nn |
| Iloilo Bosom Friends | Hall of Justice, Iloilo City Hall | 9am to 12nn |
| MINDANAO | | |
| Panabo City, Davao del Norte | Panabo multipurpose and sports gym, JP Laurel (near city hall) | 8am to 2pm |
| Tagum LGU, Davao del Norte | Brgy Hall, Magugpo South, Mabini Street, Tagum City | 12nn to 5pm |
| Smiles, Davao City | To be announced | To be held after October 8 |
| Thrive, Cagayan De Oro | Capitol University Medical City | 3pm |
| Mindanao Breast Cancer Support and Empowerment Association with City of Zamboanga | Ayala Gym, Zamboanga City | 8am to 12nn |
| Mindanao Breast Cancer Support and Empowerment Association, Rotary Club Zamboanga with the Zamboanga Runners Club PH and MBCSEA | Patio Palmeras Zamboanga City | 2 to 5pm |