October is Breast Cancer Awareness Month. ICANSERVE marks it this year with the Kamay Gabay Early Detection Campaign. Despite limitations on large group gatherings to protect public health, Kamay Gabay is ICANSERVE's way to provide women at risk with correct, vital and life-saving information.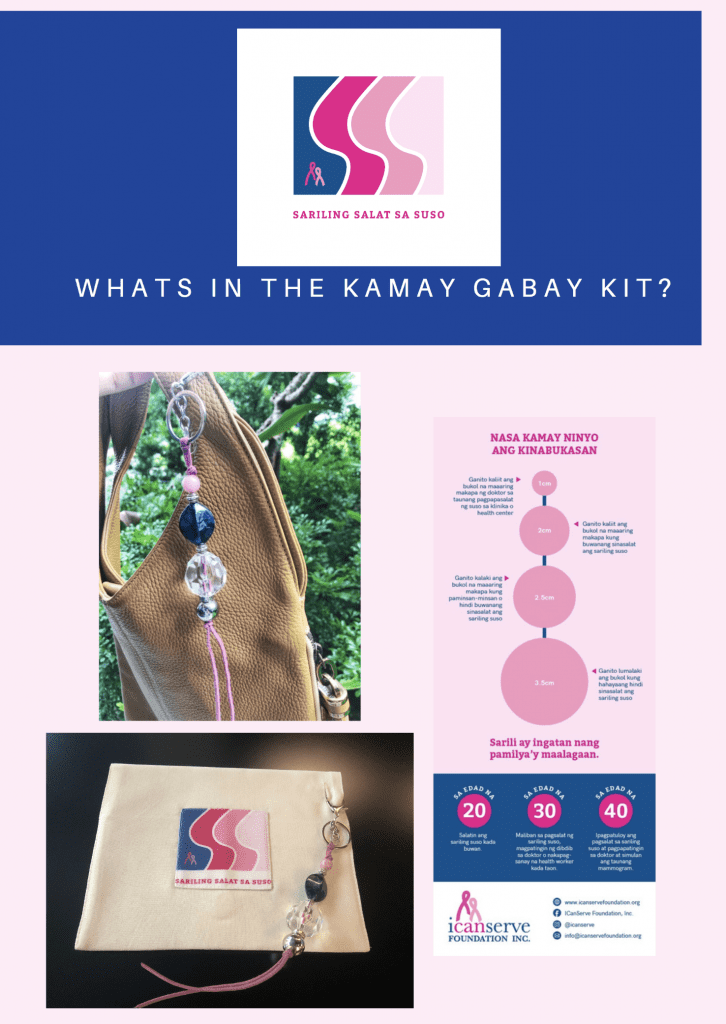 ICANSERVE continues to promote monthly breast self-exam (BSE) or Sariling Salat sa Suso as a simple, non-invasive and cost-effective way to detect breast cancer.

The Kamay Gabay Kit will educate women at the barangay level about BSE and the importance of doing it regularly. It is composed of a beaded charm that demonstrates the average sizes of breast lumps typically found by those who undergo annual check-ups by health practitioners, those who do monthly BSEs, and those who do so occasionally. The largest bead represents the actual size of lumps discovered by accident for those who do not have regular check-ups or self-exams. The keychain charm is a visual resource and a reminder.
Materials include basic facts about breast cancer, myths vs. facts, early detection guidelines by age, risk factors, as well as breast changes to look and feel for. It also includes an illustrated step-by-step procedure on how to accurately conduct a self-exam.
Each kit will contain a keep-all envelope, a keychain bag charm and a breast cancer resource guide available in English, Tagalog or Bisaya. 
Metro Manila Spouses Foundation Inc. will once again be a strategic partner in our campaign as they help ICANSERVE disseminate information and distribute these kits to women in the communities living in all sixteen cities and one municipality of Metro Manila.
To donate or purchase for your chosen barangay, please contact Myrna at +63919 006 9445.