Players of Kaya Futbol Club, a Filipino association football club, don pink laces on their boots this October, breast cancer awareness month, to support the campaign for early breast cancer detection.
A supporter of ICanServe Foundation since 2011, Kaya FC debuted their pink laces in a match against Manila All-Japan on October 17 in Group B at the United Football League (UFL). They will wear pink laces again on October 23 against Cimarron FC.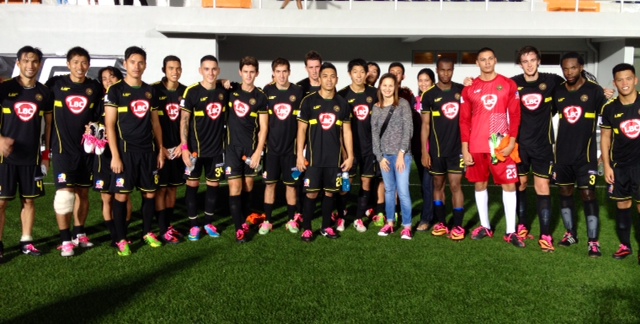 On October 26, Loyola Meralco Sparks and Kaya FC hold a joint clinic before an exhibition match against 111 kids at the Emperador Stadium. Children from UFL Club academies, Gawad Kalinga and Payatas FC will participate.
Proceeds of the joint clinic will be donated to ICanServe Foundation. Gawad Kalinga footballers will be sponsored by LBC Foundation, Boys Town players will be sponsored by One Meralco Foundation, and Payatas FC players will be sponsored by Bootcamp, a multi-branded football store.
Kaya FC  led the 2011 fund-raiser, "Kick Breast Cancer Goodbye" to encourage women to observe early breast cancer detection guidelines: At age 20, conduct monthly self-breast examination (BSE). At age 30, conduct monthly BSE and undergo a clinical breast examination (CBE) by a trained health worker every year. At age 40, continue monthly BSE, annual CBE and get a baseline mammogram.
Click here to view photos from the October 17 Kaya FC match.
Click here to view photos from the October 23 Kaya FC match.