By Cyrene de la Rosa, CHOW BUZZ via Interaksyon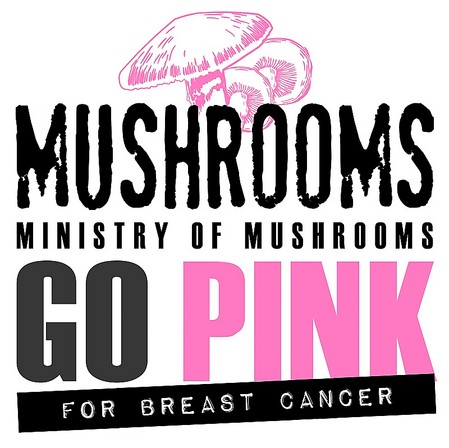 Spread some mushroom love as mushrooms paint the town pink again this October for a fund-raising campaign for the benefit of the ICanServe Foundation.
Mushrooms have long been regarded as one of nature's super foods. One of the very limited natural food sources of Vitamin D and other key nutrients such as Vitamin B1 (Thiamin), B2 (Riboflavin), B3 (Niacin), plus potassium and selenium, while remaining relatively fat and cholesterol free. It also contains natural substances like polysaccharides, which stimulate the body's immune system to fight off infection during times of stress. Today, mushrooms are the main focus of many ongoing scientific studies as there is strong evidence that some properties may ultimately lead to breast cancer prevention and eradication.
October 2013 marks the 1st year anniversary of Mushrooms Go Pink PH Breast Cancer Awareness Campaign. This year, the Ministry of Mushrooms, Inc. in collaboration with over 50 restaurants and food establishments, will take you around the world, as mushrooms are transformed into Filipino, Japanese, Swiss, Italian, French and other internationally inspired "shroom-tastic" dishes.
Ten percent of the cost of each special dish containing mushrooms purchased will be donated to the ICanServe Foundation through the Mushrooms Go Pink PH Campaign.
Last year the dishes for the campaign revolved around locally grown fresh oyster mushrooms, but this year, the edible campaign have notched up with the introduction of new mushrooms (fresh oysters, abalone, fresh wood ear mushrooms, and milky mushrooms).
"We at Ministry of Mushrooms are all about giving back through mushrooms, and joining the fight against the world's leading killer of women, breast cancer, is one very important way we do, " shares Ministry of Mushrooms, Inc. president Marco Lobregat.
The ICANSERVE Foundation provides hope and help to women with breast cancer. It promotes early breast cancer detection through high impact information campaigns and community based screening programs. Its network of cancer survivors, that includes Chow Buzz, light the path for women with cancer towards total healing.
Here are some of the participating hero restaurants to check out and their mushroom-inspired dishes:
121 Bar and Restaurant for Oyster Mushroom Tempura
2NDS for Crispy Oyster Mushroom and Raclette Burger; and Truffled Mushroom and Pancetta Mac

Alba's for Paella con Champinones
Apartment 1B for Mushroom and Gruyere Omelette with Truffle Paste
Aria for Pasta Murgiana

Brera Deli for Brera Delicatessen Sandwich
Burger Project for Mushroom Fries with Truffle Aioli
Brida Café for Lady Antoinette Sandwich
CAV for Mushroom Potpourri
Chef Tatung for Kabute, Labong at Tokwa
Chihuahua, dish to be announced
Chuck's Deli for Three-Mushroom and Swiss Burger (from their Fort branch); and Four-Mushroom Sourdough Pizza (from their Eastwood branch)
Chupacabra for Grilled Garlic Mushroom Street Taco; and Tagliata di Manzo, Funghi Trifolati, Rucola (beef tenderloin, roast, sliced ,focaccia, mushrooms, arugula)
Connie's Kitchen for Chorizo Mushroom Sauce
Corner Tree Café for Veggie Oyster Mushroom Po' Boy
Cova Tapas y Sangria for Paella con Setas y Jamon
CPK for Wild Mushroom Pizza
Damaso for Sekretoni Salome
Discovery Country Suites (Tagaytay) for Mushroom Truffle Risotto
Discovery Shores (Boracay) for Gorgonzola and Mushroom Crusted Lamb Chops with Polenta Puree; Fish-Seared Seabass with Mushroom Broth and Grilled King Oyster Mushrooms; and Chicken-Roasted Chicken with Seared Three Mushrooms and Rosti Potato
Discovery Suites (Ortigas) for Wild Mushroom Capuccino; Tempura mushrooms; Grilled US Striploin; Mushroom tart, roasted baby potatoes, asparagus, shallot confit; Milky Mushroom Steak with mango plum sauce and dashi-vegetable rice pilaf
Echostore for Mushroom Burger and Mushroom Soup
Edgy Veggy for Vegan Mushroom Longganisa
Elbert's Cheesesteak for Grilled Mushroom Melt

Gino's Brick Oven Pizza for Lemon Mushroom Fettucine
Goodles for Goodles Classic with Mushrooms
Green Pastures (Cyma) for Mushroom and Orzo Mushroom Yiouvetsi
Gustare for Mushroom Stroganoff with Fresh Fettucine

Juju Eats for Korean Kimchi Salad

Kasbah for Chickpea,Eggplant and Mushroom Tagine
Kitayama for Mushroom Risotto "Ministry of Mushroom"
La Creperie for Paysanne Gallete (Egg bacon, and sautéed mixed mushrooms on a 100% buckwheat gullet crepe)
L'Entrecote for Mushroom Cheese Fondue
Mamou for Mushroom Truffle cream Pasta and Mushroom Bottarga Cream Pasta; Mesclun for 4-Mushroom Sourdough Pizza; Nomama for Garlic Dry Ramen, Braised Shrooms in Shisso Butter, Farm Fresh Eggs
Old Swiss Inn for Trio of Mushroom Roll with Petit Salad/ Gratinated Eggplant and Mushroom Pesto
People's Palace for Crispy Fried Salt and Pepper Mushrooms
Persia Grill for Hummus Gone Pink (Fresh Oyster Mushroom sautéed blended with Persian herbs and extra virgin olive oil on Hummus)
Pi for Mushroom Gruyere Pi with Caramelized Onions, Bacon and Gruyere Cheese
Pier One for The Pier Cream of Mushroom Soup
Pino Resto and Bar for Mushroom and Oyster Sisig
Pipino (Vegetarian) for Adobong Mushroom sa Gata on Quinoa with Caramelized Saba.
Sala Bistro for Truffled Risotto of Fresh Oyster Mushrooms, Porcini, Rocket, and Parmesan
Sexy Chef for Vegetarian Jap Chae; and Sukiyaki with Vegetable Rice Simply Pie; and Mushroom Curry Pie
Spring for Hot Mess KaPao; and Four Kinds Mushroom and Tofu rice Bowl
The Clubhouse for Three Mushroom and Cream Pasta; Truffle Mushroom Scramble; and Chicken Mushroom Pesto Panini
Torch for Truffled Quattro il Funghi Pizza