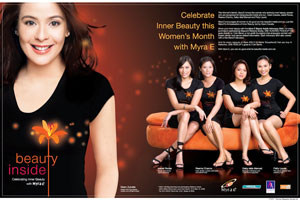 From March 15 to May 15, ICanServe receives one peso for every capsule of Myra 400-E purchased in Watsons.
Celebrate Women's Month with Myra E by showing your inner beauty. Just like Dawn Zulueta, Isabel Roces, Reema Chanco, Gaby De La Merced, and Patty Laurel, you can be beautiful inside out. Buy the Myra E Beauty Inside Advocacy Shirt for P249.75 in participating Meg and Watsons Stores, and Myra E automatically donates P100 of the purchase price to ICanServe. Each Advocacy Shirt comes in a trendy canister with a free Myra E trial pack.
Help raise awareness about breast cancer and other women cancers.
Buy your Myra 400-E from Watsons until May 15.