ICANSERVE Foundation, Inc. marks Breast Cancer Awareness Month (October) with a campaign to encourage women to get themselves checked using the line, "OK Kapa?", literally, "Is it okay to be touched?".
In social media posts starting on October 7, ICANSERVE members and volunteers reminded their respective followers about early breast cancer detection guidelines: From age 20, conduct a monthly breast self-examination (BSE); from age 30, undergo a yearly clinical breast exam (CBE) by a doctor or a trained health worker, in addition to the monthly BSE; at age 40, get a baseline mammogram while continuing to do monthly BSE and yearly CBE.
Maureen Wroblewitz, an actress and the first Filipina to win Asia's Next Top Model, is the face of the campaign modelling its message as well as ICANSERVE's newest t-shirt, made by Vamos exclusively for ICANSERVE. Maureen's late mother, MarieFe Pojas Wroblewitz, was an active member and volunteer of ICANSERVE.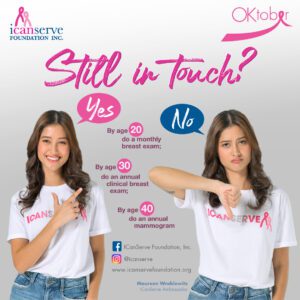 ICANSERVE promotes early detection combined with timely and correct treatment in order to bring down mortality rates from breast cancer. It is a founding member of Cancer Coalition Philippines, which helped move forward the National Cancer Control Act in the hope of providing access to life-saving cancer treatment for all Filipinos living with cancer.
To order the shirt online and help the campaign, go to The ICANSERVE Shop.