Distribution and retail company Tenkiebox Concepts, Inc. has partnered with the ICanServe Foundation to support the fight against breast cancer.
Tenkiebox, known for its work on bringing the OtterBox brand to the Philippines, aims to inspire and spread awareness of the disease by launching "Bra Snap For Support," a nationwide volunteerism-campaign with the breast cancer foundation starting this October.
"We want to advocate the fight against breast cancer as we know from many cases that the survivors of the disease need support above all," said Tenkiebox chief executive officer Jay Tengco. "Our work and ICanServe's own cause complement each other, as our products stand for strength and protection for what's next."
ICanServe founder Kara Magsanoc-Alikpala agrees. "Partnering with Tenkiebox is the perfect way to do that. Their ideas for providing help are quite creative and encouraging, and that is exactly how we try to support cancer survivors."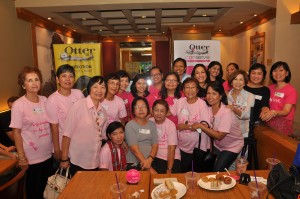 OtterBox has a special line of cases called the Strength series that are designed to inspire and support the breast cancer cause. Apart from the proceeds from the Strength series, a portion of the sales of any pledged case will go to ICanServe.
With this partnership, Tenkiebox  and ICanServe aim to extend their reach to thousands of women and other advocates who believe that awareness and support can go a long way in helping breast cancer survivors find their strength.