The ICANSERVE Pink Positive Wellness Forum on October 5, Saturday, promises a whole day sharing of wellness information, free of charge, complete with breast and cervical clinics.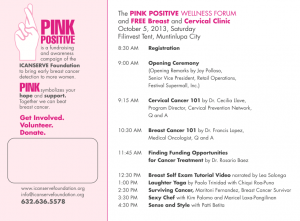 From 8:30 a.m. to 5:30 p.m., go to the Filinvest Tent, Spectrum Midway Street, Alabang, Muntinlupa City for sessions on Finding Funds for Cancer Treatments (b Dr. Rosario Baez); Surviving Cancer (by ICanServe member Maritoni Fernandez); Sense and Style (by ICanServe advocate and member Patty Betita); Eating Healthy by the Sexy Chef group led by Kim Palomo with Maricel Laxa-Pangilinan; and Laughter Yoga with Paolo Trinidad and Chiqui Roa-Puno. ICanServe volunteers and supporters will also discuss the latest evidence-based information on cervical cancer (by Dra. Cecilia Llave) and breast cancer (Dr. Francis Lopez).
The Pink Positive Forum is in line with ICanServe's Pink Positive campaign for breast cancer awareness month. Throughout October 2013, a Public Pledge Wall (8 feet x 8 feet) at the Power Plant Mall in Rockwell Center (Makati) and at Filinvest Tent (Alabang) will solicit support through signatures and donations from public supporters of early breast cancer detection.
Click here for map to Filinvest Tent
ICanServe thanks the sponsors and supporters listed below. Each agreed to display a Pink Positive Pledge Wall at their offices or company headquarters, to educate and encourage early breast cancer detection among their partners and workforce.
Diamond – ICTSI
Gold – General Milling Corp; First Gen Corporation; Del Monte; Metrobank Foundation, BDO Foundation; Ayala Corporation; Nickel Asia; Med Central; A. Magsaysay; CLSA Exchange Capital; Alice Eduardo.
Silver – Tempur; Kitchen Aid; Right 8; Philhealth; Philips; Fortune Travel; MDI; and Lorenzo V. Tan.
Partners – Philippine Daily Inquirer, ABS-CBN, ANC, Rockwell Land, Filinvest, Cebu Daily News, Golden Touch Imaging, and EON (PR firm).
Smaller 12″x18″ Pink Positive posters are available for those who would like to give a donation of at least P5,000. Individuals may pool funds together to get a Pink Positive poster that expresses concrete support for early breast cancer detection.
Increase awareness in your workplace, and at the same time help those trying to survive breast cancer. Call (02) 636 5578 to get your Pink Positive poster now, or email info@icanservefoundation.org.
Click here for Del Monte Pink Positive Photo Gallery
Click here for Philhealth Pink Positive Photo Gallery
Click here for Med Central Pink Positive Photo Gallery
Click here for BDO Pink Positive Photo Gallery
Click here for ABS-CBN News Channel Pink Positive Photo Gallery