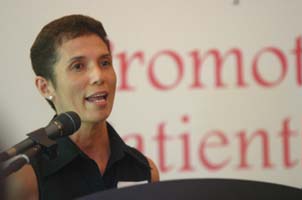 ICanServe and AVON brought together leaders of more than 20 patient groups from all over the country in the first of its kind workshop, "Promoting Patient Power: Elevating Your Advocacy."Through the years, the patient's voice has grown significantly louder. Its strength could no longer be ignored by different sectors like the medical profession, health industry, government, private companies, relatives of patients, including the patient herself.
The goal of the two day workshop held last September 21 to 22 at the Astoria Plaza in Pasig City was for patient groups to realize their full potential to better serve their community and be partners in nation building . There is no school or short course that can prepare and breed patient advocates. That's why this workshop is significant as ICanServe and AVON tap the help of experts to help harness the advocates' potential and passion to serve.
The once cancer patients turned cancer patient advocate leaders has transformed what seemed like a powerless episode in their lives into a potent force that can help many more Filipino cancer patients.