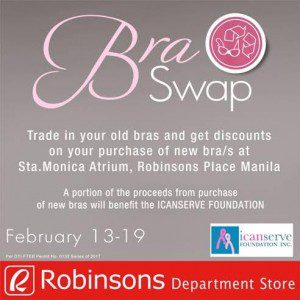 Robinsons Department Store and ICanServe Foundation collaborate for a Bra Swap activity.
Drop by at Robinsons Place Manila, Sta. Monica Atrium from February 13 – 19, and trade in your old bras and get discounts on your purchase of new bras. Here's how:
1. Customers may exchange their old bras for new bras at a special discount at up to 30% off.
2. Customers may bring any brand of old bra/s to be dropped in designated drop boxes.
3. Customers may choose to purchase their new bra/s from any of the participating brands.
4. Customers may only purchase one bra for every surrendered bra and a maximum of 3 bra swaps per customer, per day.
5. Customers will then enclose the old bras in transparent plastic bag and drop into the designated drop box, in the presence of the brand's promo clerk.
6. A portion of proceeds from the purchase of new bras will be donated to ICanServe Foundation Inc.