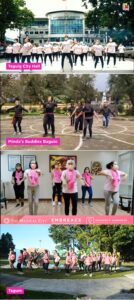 ICanServe Foundation gathers cancer survivors, patient advocates, health professionals, researchers, and policy makers at the 6th Southeast Asia Breast Cancer Symposium (SEABCS) to share ideas, collaborate on solutions… and dance!
To lighten the mood amidst a lineup of serious topics, this year's SEABCS host encouraged breast cancer support groups and allies to participate in the SEABCS Community Video Dance Presentation. Groups from around the region gamely gathered to learn the Zumba-style choreography to an upbeat, inspirational song chosen for the occasion. Dressed in various shades of pink, they then recorded themselves dancing in scenic spots around their respective localities. The compilation video will be presented at the closing ceremony of SEABCS, to be held online from September 23-25, 2022.
ICanServe president Nikoy de Guzman led the effort, saying "If we can serve, then we can dance too! What a joy to lead these group of survivors and supporters in showcasing not just the causes that we fight for, but more so the talents we were blessed with."
Participants were grateful for the opportunity to film the dance video, especially after more than two years of pandemic lockdowns and restrictions on social gatherings. "It was a great excuse to meet up again in person, to bond and get moving," said Karen Lluch of Thrive, a support group based in Cagayan de Oro City. "We danced to share the hope of thriving forward," she added.
Be inspired by the boundless energy and enthusiasm of the breast cancer community at SEABCS. US-based Global Focus on Cancer is co-host of the event, previously held in Vietnam (2016), Myanmar (2017), Malaysia (2018), Thailand (2019), and Indonesia (2021- virtual conference).
Join the conversation. Registration is free. Register for the virtual conference at https://seabcsphilippines.ph/