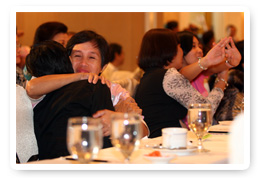 Nowhere has "a demonstration of solidarity, unity and triumph of spirit" been more palpable than in the last Silver Linings event, according to singer, lecturer, Jim Paredes, husband of ICanServe volunteer, Lydia.
Held at the EDSA Shangrila hotel in Mandaluyong City last September 2005, this year's Silver Linings goes to the Waterfront Lahug in Cebu City on September 6.
Silver Linings , the first and only one of its kind in the country, is a national homecoming and educational forum for breast cancer survivors.
Silver Linings is a whole day educational and inspirational fora. Topics are a mixture of hard and soft topics. They can range from Breast Cancer 101 to Finding Humor in Your Tumor.
Besides lectures, there will also be activities that engage the participants like exercise, cooking demonstrations, look good feel good sessions and opportunities for newly diagnosed patients to interact with newfound sisters in the cancer community.
Several sessions go on at the same time and there will be a plenary for the opening and closing. The event always closes with "stories of hope," featuring inspiring testimonials from breast cancer survivors.
The event is conducted predominantly in English and sometimes in Filipino.
Silver Linings aims to erase the two things a cancer patient confronts: fear of the unknown and fear of being alone by knowing more about the big C, listening to inspiring stories of survivorship, and by strengthening the sisterhood.
Chair of the Silver Linings event is Me'Anne Solomon, ICanServe volunteer coordinator for Cebu. The various committee heads are: Nelia Navarro, Marketing and Sponsorship, Bernie Aboitiz for Publicity and Promotions, Christine Caballero and Marly Dacay for Transportation and Accommodation, Sister Lucia Perpinan and Lala Pagobo, Secretariat, Chevy Salvador is project manager. All are under the supervision of the Collaboration and Advocacy Committee chaired by Alice Orleans and Kara Magsanoc-Alikpala, also founding President of the foundation