You may now register and order tickets to Silver Linings 2019 happening on September 28, 2019 at www.icanservefoundation.org/silverlinings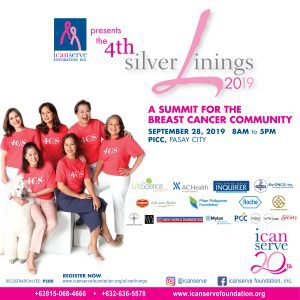 Silver Linings is a summit for the Philippine breast cancer community. It's a forum that offers various topics for the different needs of breast cancer patients, their family, friends, and supportive medical team. Many topics are universal and can appeal to others outside the cancer community.
Staged by the ICANSERVE Foundation, Silver Linings will be on September 28,2019 Saturday at the PICC, Pasay City from 8am to 5pm. Registration fee is P500 to include meals.
Forums are interactive and creatively presented. Topics range from the personal, to the medical to advocacy. For example, topics like Everything you need to know about breast cancer–Can one have children after cancer? Can one find a job after cancer? How do cancer patients  deal with a Stage 4 diagnosis ? Does cancer run in my family? Transforming a Crisis to an Opportunity; Anxiety and Depression during cancer; Healing through storytelling; Eating right; Meditation; Yoga; Where to Find Financial Assistance; What's in store for you in the new Cancer Law? There will be free X-rays and consults with doctors,  and many more.
It's a day of education and inspiration. To date, Silver Linings is the largest gathering of cancer survivors in the Philippines, with usually at least 2,000 people in attendance. It is an opportunity to forge friendships and partnerships with the breast cancer community.
Silver Linings is staged by the ICANSERVE Foundation Inc, a Philippine-based NGO that promotes early breast cancer detection, access to accurate diagnosis and timely treatment. It is the only foundation that has institutionalized early breast cancer detection in partnership with local government partners. It has also begun institutionalizing patient navigation through local laws.
This is the fourth time Silver Linings is staged. Previous events were staged in Metro Manila, Cebu City and Davao City. Silver Linings 2019 is most special because it coincides with the 20th anniversary of the ICANSERVE Foundation.
Click here to register https://www.icanservefoundation.org/silverlinings
Silver Linings is brought to you by Unilab Bio-ONCO, Inc., LifeScience, AC Health, the Philippine Daily Inquirer, Del Monte, Pfizer Philippines Foundation, Roche, the De Guzman group, The Good Seed, Bayo, New World Diagnostics, Parkway Cancer Center, and the Metro Group (Metro Channel, METRO.STYLE and Metro Society).