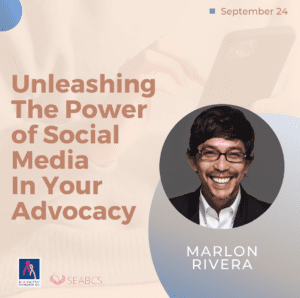 Patient advocates joining the 6th Southeast Asia Breast Cancer Symposium (SEABCS) to be held online from September 23-25, 2022 are in for a treat.
Filipino advertising guru Marlon Rivera will talk about "Unleashing the Power of Social Media in Your Advocacy" in a session to be moderated by broadcast journalist-turned-entrepreneur Ces Drilon.
Rivera has been working in advertising since 1988. A copywriter by profession, he was chief creative officer and president of Publicis Manila, a French company that has a subsidiary in Manila. He teaches VIsual Communication at the University of the Philippines. He is also a fashion designer, make-up artist, production designer and director.
Rivera will speak on the second day of SEABCS, hosted for the first time in the Philippines by ICANSERVE Foundation, a nonprofit that advocates early breast cancer detection and access to timely and correct treatment. Global Focus on Cancer is co-host of the event, previously held in Vietnam (2016), Myanmar (2017), Malaysia (2018), Thailand (2019), and Indonesia (2021- virtual conference).
With the support of the American Society of Clinical Oncology or ASCO and the Union for International Cancer Control, the SEABCS is open to all with topics that appeal to various stakeholders—doctors, caregivers, patient advocates, and cancer survivors at any point in their journey.
Join the conversation. Registration is free. Register for the virtual conference at https://seabcsphilippines.ph/