Now on its fourth year, the I CAN SERVE, I CAN DANCE collaboration stages "The Power of 4" Zumba party for zumba enthusiasts wishing to raise awareness and help women at risk of breast cancer. It will be held on October 9, 2016 at The Circuit Makati.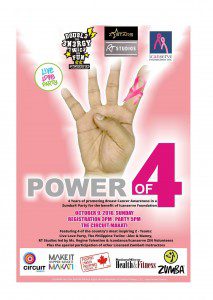 Registration opens at 3 p.m. and the party starts at 5 p.m. Tickets sell for P300 and may be purchased at the venue just before the party starts.
ICANSERVE vice president and head of collaboration Nikoy de Guzman thanks all zumba instructors, students and practitioners who have supported the annual event since 2013. "We have been quite successful, and we believe there is more to be done in raising awareness, especially in encouraging women to do monthly breast self-examination from age 20, and to go for annual clinical breast examination from age 30," she says.
The Power of 4 features four of the country's most inspiring Z-teams: Live Love Party; The Philippine Twiinz: Alec & Manny; RT Studios led by Ms. Regine Tolentino; and Icandance/Icanserve ZIN Volunteers. Other licensed Zumba instructors participate.ising awareness, encouraging women to do monthly self-breast exams from age 20, and going for annual clinical breast exams from age 30," she says.