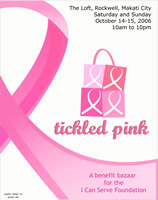 Tickled Pink… the bazaar to end all bazaars, wrote the Philippine Daily Inquirer. The first major fund raising event of the I Can Serve foundation, Tickled Pink held last October 14 and 15, 2006 at the Loft in Rockwell, Makati City was a thrilling success.
The benefit bazaar was like no other.  It was spacious, soothing, and not frenetic. It was cozy and comforting. It had something old, something new, something pink.
Ceilings were decorated with pink and white Japanese rice paper lanterns. There were areas for pauses and chats. One alley had a lamppost and a park bench.  The dining area   was   lit by stunning but not opulent mini chandeliers. Round tables were decked with tiffany chairs.
Floral arrangements were casual and spontaneous as if one were strolling through a park. There was much attention to details that even the fitting rooms were dressed like a boudoir.
Vendors were not the usual bazaar fare. Featured were the country's top exporters of costume jewelry, home and other fashion accessories, first time Filipino fashion designers manufacturing clothes and shoes not found in the stores. Also featured was the most expensive and exotic coffee in the world, civet coffee known in the international market as Coffee Alamid.
The most important booth was the I Can Serve booth that hosted patients about to begin treatment or in search for more information.
Vendors donated a quarter of their profit and these proceeds go to the ICanServe Foundation's high impact information campaigns and assistance to underserved breast cancer patients.