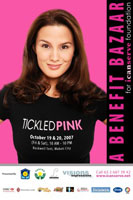 Tagged as "the bazaar to end all bazaars", Tickled Pink, the benefit bazaar is back. Bigger and better on October 19 and 20, at the Rockwell Tent, Makati City. Tickled Pink isn't your everyday bazaar. The look was New Age Zen rendered in black and pink — the global breast cancer color styled by Joseph Claravall.
Tickled Pink showcases rarely seen items in the Philippine market. They are mostly products for export ranging from fashion wear and accessories, menswear, children's clothing and toys, home accessories, gifts, and a wide array of food. Specially designed items from ICanServe foundation were also up for grabs at Tickled Pink such as cancer awareness bands, Christmas cards, bags, T-shirts designed by Rajo Laurel, and a kiddie line by Big and Small.
Bianca Araneta, a supporter of the advocacy, was the event's signature model.  She has relatives who bravely survived the big C, and a grandmother who died of breast cancer.
Top crowd drawer Camille Genuino's C + G designer clothing led the pack of vendors. Eva Abesamis and her Marie Antoinette-inspired tops were there too along with V-Clothing and La Copa.
Accessory designers like Ginger Mirasol, exporters Avatar, Legacy Crafts, Le Font and Silverbox also joined the festivity. Isabel Lovina, long time exporter of children's clothes, made her unique creations available to the market. Buena Mano, Accent Pieces, Arden Classic, Design Menu, Ferimar and Tadeco provided home and Christmas decors.
Mayen Carmona offered an extensive range of Vietnamese bags and linens. Kulay Art group displayed colorful paintings they created. Regular vendor, The Farm of San Benito, brought their signature health and wellness spa products.
Actress, breast cancer survivor and ICanServe volunteer Maritoni Fernandez lent a hand with her special cheesecake, other pastries, bico, and other kakanin, while one could also enjoy food from Le Souffle, the anchor food vendor for Tickled Pink, and also enjoy the brewing Coffee Alamid.
Bettina Osmeña, chairman for the fund raising committee of ICanServe foundation and the Tickled Pink event, offered her own line of jewelry for export, Bijux. Co-organizers of the event were ICanServe volunteers and sisters Ria Romero and Ina Vergel de Dios and Kara Magsanoc-Alikpala, president of ICanServe.
The tremendous response the previous year proved the crowd's faith in the advocacy of ICanServe, which empowers women with information and hope. The support group provides patients with free books, audio and video materials, special services like counseling, an online support group, early breast cancer screening programs, forums big and small, and subsidizes undeserved women on cancer treatments.
The event was made possible by Rockwell Land, Pag-ibig, Pagcor, HSBC, Goody, PCSO, Safi, 92.3X and Jollibee.