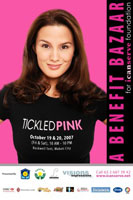 Riding on last year's success, ICanServe's Tickled Pink 2 charity bazaar enjoyed a huge turnout. Held at Rockwell Tent beside Rockwell's Power Plant Mall in Makati City, the October 19-20 fundraiser is a follow-up on the success of ICanServe's first charity bazaar in October 2006. But this year's event wasbigger–bigger venue, more sellers and bigger attendance.
Thanks mainly to the Filipino character of supporting a good cause as well as continuing on with life despite adversity or danger, attendance on Day 1 of Tickled Pink remained good at over 1,000 visitors. And even more came on Day 2, Saturday.
Aside from the early Christmas shopping, Tickled Pink gave breast cancer survivors a most welcome opportunity to meet and give solace to 'sisters' in treatment and women needing information on breast care health. ICanServe provides patients with free books, audio and video materials, special services like counseling, an online support group, early breast cancer screening programs, discussion forums, and subsidy for treatments.
Women from all walks of life approached volunteers at the ICanServe booth to get their free book and inquire about doctors and hospitals that offer biopsies, mammograms and other diagnostic examinations. ICanServe volunteers Crisann Celdran, Sheila Cruz, Abby Tan, Pamsy Tioseco, Liza Dela Cruz, Mariflor Aunario, and Melissa De Leon-Joseph gave referrals, and offered words of encouragement, advice and hope to other survivors, especially to newly-diagnosed patients.
Lending a hand throughout the two days were breast cancer survivors Lian Chua, Nikoy de Guzman, Alice Orleans, Margie Jorillo, Vangie Khu, Carla Paras-Sison, Be Fojas, Ina Esguerra, Alice San Juan, Becky Dizon-Fuentes, Beth Estolano, Bibeth Orteza; ICanServe volunteers Paul Tan, Don Cruz, Audie Orleans, Rene Fuentes, Norman Sison, Archie Fojas, Matthew Buhion, Liezel Jagna, Rose Villano, Nini Conwi, Corinne Szarvas Kidd, Evie Vaoga, Arline Arriola; and volunteers from Pag-IBIG Fund.
Immediately after the nearby Glorietta 2 explosion after lunchtime of October 19, which was Day 1 of Tickled Pink, Rockwell's management put its security guards on full alert with managers and bomb-sniffing dogs seen patrolling the grounds.
While there were anxieties over possible terrorist attacks and expectations of heavy traffic around Makati City's central business district, guests steadily streamed in as the day wore on. Bazaar shoppers cooperated with the extra-stringent security checks, patient with the inconvenience given the extraordinary situation.
As Metro Manila settled down the following day, Day 2 saw a heavier influx of visitors doing early Christmas shopping amid a festive atmosphere. Anticipating a bigger turnout, ICanServe volunteers were out in full force.
In line with the worldwide annual observance of breast cancer awareness month, the colors of the day, of course, were black and pink – the New Age Zen look styled by Joseph Claravall.
Tickled Pink showcased items rarely seen in the Philippine market, mostly products for export, ranging from fashion wear and accessories, menswear, children's clothing and toys, home accessories and gifts.
Bijux, Bettina Osmeña's own line of export-quality jewelry, was also among the event's crowd-drawers. Osmeña chairs ICanServe's fundraising committee. She co-organized Tickled Pink 2 with ICanServe volunteers Ria Romero and Ina Vergel de Dios, who is also a survivor, and ICanServe president Kara Magsanoc-Alikpala.
Actress, breast cancer survivor and ICanServe volunteer Maritoni Fernandez displayed her artistic eye offstage with her Save the Susus t-shirt and bag line. Self-breast examination kits packaged early detection awareness in a neat little ready-to-give gift.
Aside from enjoying the Christmas shopping festivity, 18 Days Coffee – which joined last year's bazaar – again proved to be a treat with its trademark fresh brew. Another regular vendor, The Farm at San Benito, provided an oasis of quiet amid the shopping hustle and bustle.
Camille Genuino's C + G designer clothing enjoyed brisk sales, as did Eva Abesamis and her Marie Antoinette-inspired tops, along with V-Clothing and La Copa. Accessory designers like Ginger Mirasol, exporters Avatar, Legacy Crafts, Le Font and Silverbox were also popular.
The Carewell Community, a nonprofit foundation that links with ICanServe for patient and caregiver services, offered bandannas, baller bands, scarves, and other cancer survivor necessities. "This is our best bazaar ever," said Carewell managing director Robert Suntay on Friday, day 1 of Tickled Pink.
This year's tremendous public response reaffirmed the breast cancer community's faith in ICanServe's dedication to providing women with life-saving information, and breast cancer survivors with hope. This early the group is looking forward to another a big success for its awareness campaign in 2008.
Tickled Pink 2 was made possible by sponsors Rockwell Land, Pag-ibig, Pagcor, HSBC, Goody, PCSO, Safi, 92.3X and Jollibee.