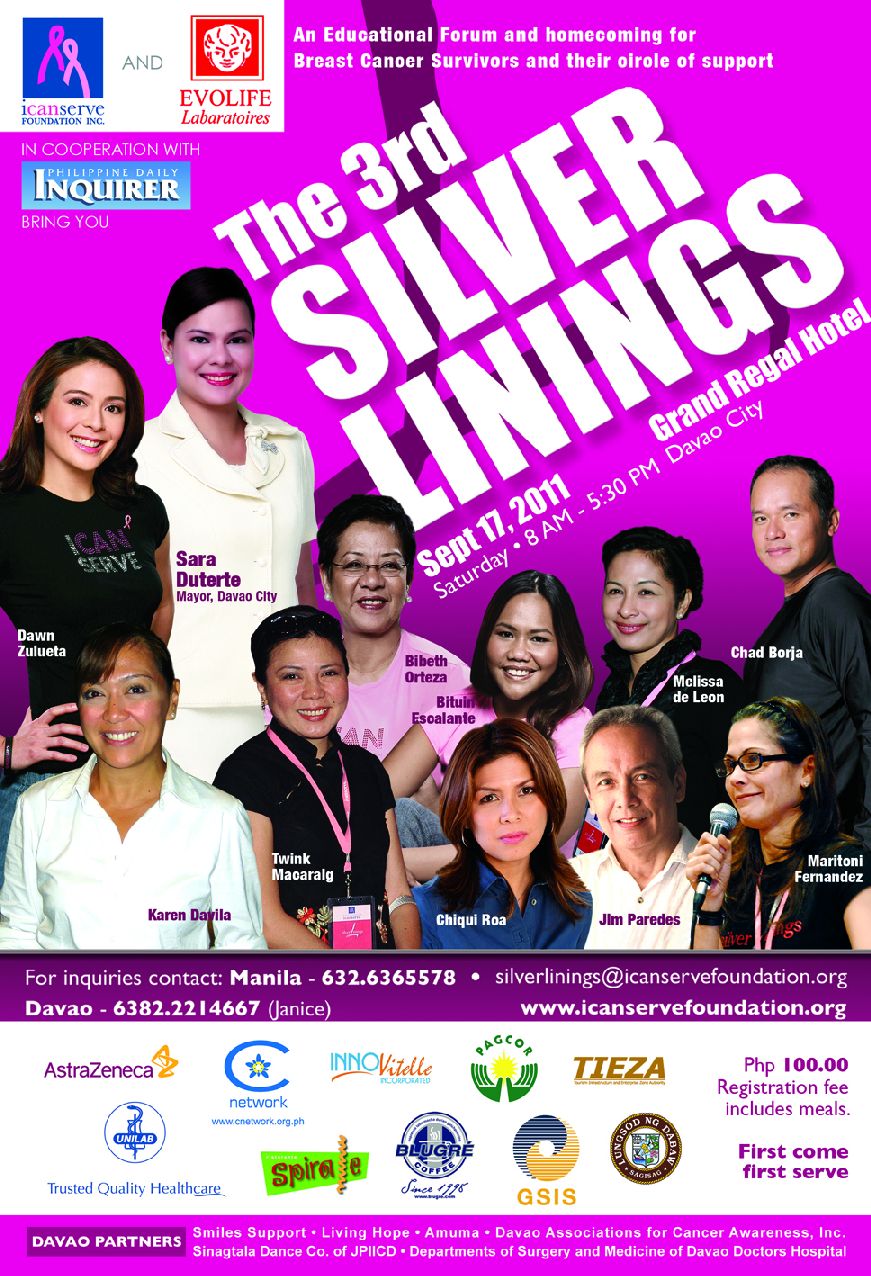 Davao City Mayor Sara Duterte will open "Silver Linings," the educational forum and homecoming for breast cancer survivors, and the people who care about them. Staged by ICanServe Foundation and co-presented by Evolife, Silver Linings will be held on September 17, 2011, Saturday, from 8 a.m. to 5:30 p.m. at the Grand Regal Hotel in Davao City.
Held every three years around the country, Silver Linings is the only national forum of its kind that empowers cancer survivors, their family and friends, the medical community, and the general public with information on breast cancer, as well as a circle of support.
ICanServe celebrity volunteers will moderate the breakout sessions. Karen Davila, Maritoni Fernandez, Bibeth Orteza, Melissa De Leon, Patty Betita, and Twink Macaraig have confirmed their participation. Davao City Mayor Sara Duterte and Dawn Zulueta, supporter of ICanServe's barangay-based breast cancer screening program, grace the opening ceremonies.
Musical numbers bring the event to a crescendo with Bituin Escalante, Chad Borja and the Sinagtala Dance Company.
Silver Linings is made possible by Evolife, the Philippine Daily Inquirer, Astra Zeneca, C-Network, Innovitelle, Pagcor, GSIS, Tourism Infrastructure and Enterprise Zone Authority, Blugre Coffee and Ristorante Spirale.
The forum offers a wide range of topics like Breast Cancer 101, Managing the Side Effects of Cancer Treatment, Exercise and Eating Right, Role of Family and Friends, Looking Good During Cancer, Breast Cancer in the Young, Keeping Healthy When in Remission, and many more.
Registration fee is P100 to include all meals and access to a free breast clinic. First come, first serve. Get registration forms from Davao City at the Grand Regal Hotel front desk, Spirale at the Damosa Business Center in Lanang, Buona Terra Deli and Creperie at F. Torres, Blugre Coffee at Landco, SM City and MTS. Forms are also available at General Santos City through Blugre Coffee at Robinsons and Pacquiao Building Osmena.
Silver Linings is in cooperation with Davao partners: Smiles, Living Hope, Amuma, the Davao Associations for Cancer Awareness Inc. and the Department of Surgery of Davao Doctors Hospital.
For inquiries: +632.636 5578 (Manila), +6382 221 4667 (Davao) or write silverlinings@icanservefoundation.org
You can download transcripts from Silver Linings 2005 and Silver Linings 2008, held in Cebu and Manila, respectively.